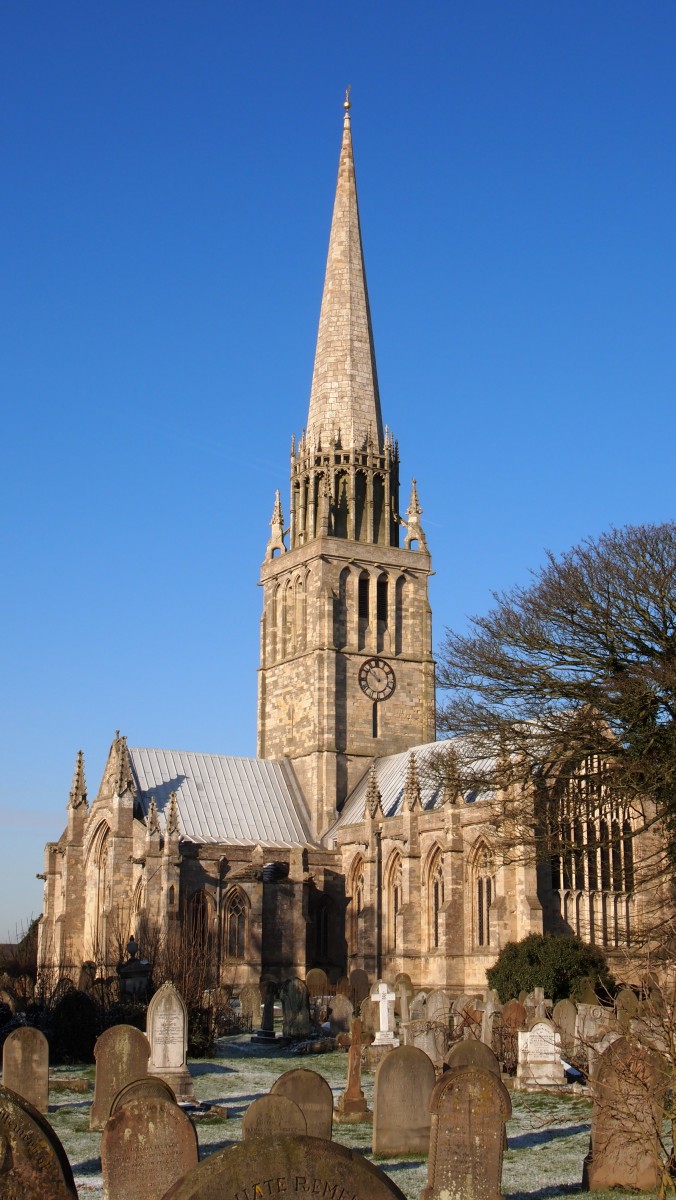 St. Patrick's is usually open daily 0900 to 1700 now we are into spring. Everyone is welcome and we hope all visitors enjoy the beauty, peace and tranquillity of our Church
The concert in church organised by the Friends of Patrington Church and given by the Withernsea Ladies Choir on 20 May was enjoyed by all who attended. We hope the Choir will be able to hold another concert near Christmas. In the meantime, for more information on activities and events, see the list on the "Forthcoming Events" page.
It's Ascension Day!
For forty days after his resurrection on Easter Sunday, Jesus travelled and preached with his apostles, preparing them for His departure from Earth. Ascension Day marks the moment Jesus ascended into heaven before his disciples, at the village of Bethany, near Jerusalem.
It is one of the major Christian festivals, ranking with Easter and Pentecost in its significance. It is celebrated by most Christain churches and goes back to at least the fourth century. It celebrates Christ's exaltation from servant whille on earth to ruler and Lord of all in heaven, completing the work of mankind's salvation. Jesus himself told his disciples that it was good for him to go away from them, because only then would he send them another helper, the Spirit of truth. which is exactly what happened on the Day of Pentecost, ten days after Jesus' ascension. The Spirit descended on the church then with power.
Twenty-one centuries later, Christians still wait for that power to descend every Pentecost.
Covid19's continuing financial impact.
Like other charities, St. Patrick's was badly affected by lockdown, plus the subsequent closure for major repairs. We are now even more reliant upon the income from the events we have begun to hold, and donations from church members, the local community and any more distant supporters. We lost around £23,000 (70%) of our usual income in 2020 and continued losing as 2021 progressed. We have survived, butcontinuing to do so will not be easy in current economic circumstances. Much of our reserves were expended financing our share of the major repair project costs, which could not have proceeded without the grant aid we received. Even then, we still have repair, refurbishment and enhancement costs exceeding £1m to meet over the next few years. We will of course keep applying for grants, but the day to day running costs of St. Patrick's are up to us and our community to find. St. Patrick's cannot survive without people and money; and both are in increasingly short supply.
May I ask all our congregation and supporters to consider if you can increase your support, in kind as much as in cash, but ONLY if this can be done without adverse impact on yourself and your family. If you wish to help in the running of the church, please contact the PCC Secretary. If you wish to donate money, you can do so direct to the church's Barclays Bank account, the sort code is 20-43-47, account name is PCC of Patrington, and account number 30707988. Please, though, provide a transaction description so I know who is making the donation.
Michael Price, PCC Treasurer.
Safeguarding vulnerable people.
St. Patrick's Church takes very seriously our duty to safeguard vulnerable people. More information is available from the PCC's Safeguarding Officer (see the "Contact us" page) or from the Diocese of York at https://dioceseofyork.org.uk/safeguarding.
Facebook.
We now have a Facebook page -St Patricks Church Patrington - authentic page- to keep everyone in touch. The title is a bit longwinded as there were already other pages about the church which aren't ours. If you like what you see, whether on Facebook or on this website, please tell your friends. Better still, come and visit our lovely church - visitors always welcome, but if you want to see it all, it will take a couple of hours.