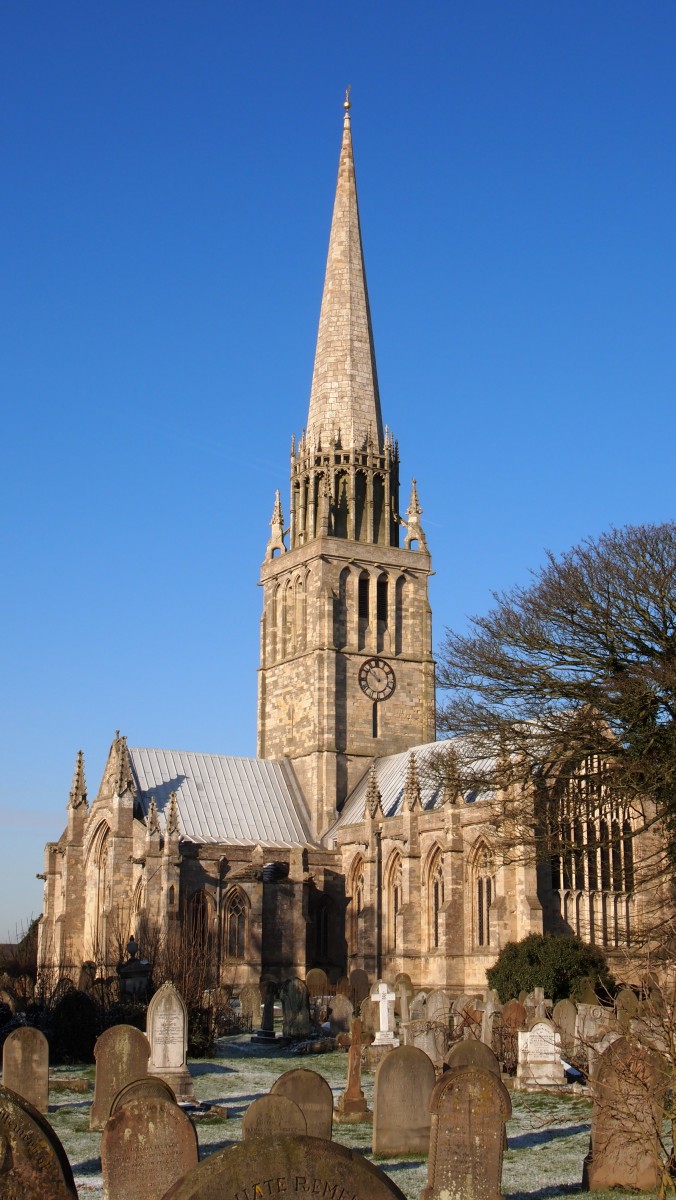 St. Patrick's is usually open daily 0900 to 1700 now we are in summer. Everyone is welcome and we hope all visitors enjoy the beauty, peace and tranquillity of our Church
For more information on activities and events, see the list on the "Forthcoming Events" page.
Peter and Paul, Apostles
On 29 June the Church of England has one of its principal festivals, celebrating the lives and work of these two major figures, instrumental in the foundation of the Christian church. They were traditionally both martyred in Rome in around AD64 during the persecution of Christians ordered by Nero.
The name Simon Peter appears 19 times in the New Testament. He appears repeatedly and prominently in all four Gospels as well as in Acts. He is also mentioned, under either the name Peter or Cephas, in Corinthians 1 and Galatians. There are very few biographical details of Peter beyond the Biblical references, but we know "Simon bar Jonah" was a fisherman based in Bethsaida with his brother Andrew. He is indicated as the leading Apostle during Jesus' ministry, always listed first among the Apostles in the Gospels and in Acts. He is also frequently mentioned in the Gospels as forming with James and John a special group, present at incidents at which the others were not, such as the Transfiguration, the raising of Jairus' daughter and Jesus' agony in Gethsemane. Peter often states his faith in Jesus as the Messiah.
Peter's birth name of Simon was not unusual at the time, but the name given him by Jesus – Cephas – certainly was. This is derived from the Aramaic Kepha, which in Greek becomes Petros and Latin Petra, all meaning "rock". This is covered in Matthew's Gospel (16:13-19). After the Resurrection, Peter did display a rocklike hardness, pursuing his faith regardless of adversity and consequences. This was of course after his denying Jesus three times, which Jesus had predicted, but according to John's Gospel it was Peter who was ready to fight at Jesus' arrest and who alone followed to Caiaphas' house. Alone and facing the possibility of a messy, painful and demeaning death, is it surprising Peter's courage failed him? Peter did meet his martyrdom some twenty years later, but by then his work was done.
Paul was a prolific correspondent. Of the 27 books in the New Testament, 13 are attributed to Paul or his followers, and approximately half of Acts deals with Paul's life and works. Regardless of inconsistencies and doubts over authorship, Paul's letters and teaching have had enormous influence on subsequent Christianity and he is acknowledged as one of the greatest religious leaders of all time.
Paul was a Greek-speaking Jew from Asia Minor. His birthplace, Tarsus, was then a major city in eastern Cilicia, part of the Roman province of Syria. Two of the main cities of Syria, Damascus and Antioch, played a prominent part in his life and letters. Although the exact date of his birth is not known, he was active as a missionary in the 40s and 50s decades of the first century, which suggests he was born about the same time as Jesus. In his youth, Paul became a tent maker, which he continued to practice after his conversion to Christianity and possibly explains how he could support himself during his ministry. Paul was educated as a Pharisee and quotes extensively and eruditely from the Greek translation of the Hebrew Bible. His defection to the Christian movement had major implications andmust have caused complete consternation in the Jewish authorities, first in the synagogue in Damascus and then in Jerusalem when the news reached there. Suddenly the man sent to arrest Christians had become one himself! This took place not long after Jesus had been executed as an enemy of the state and his followers were regarded as incipient terrorists, so the Jewish authorities probably thought Paul had become insane, and would be concerned how the Romans might react if Paul's conversion led to an uprising. The authorities in Damascus decided to kill Paul, forcing him to hide and then flee. Initially the Christians both in Damascus and Jerusalem were very wary of him – it would seem lunacy to allow a sworn and proven enemy, who had participated in Stephen's martyrdom and had a history of violent persecution of Christians, to be admitted to the Christian inner circle. Something, however, motivated Barnabas to believe Paul's conversion and Christianity would spread across the world as a result.
Two different men from different backgrounds and different styles, who did disagree over issues, but were both motivated by a burning desire to carry the teaching of Jesus to the world. They were powerful personalities with passion, dedication, commitment and confidence. And whilst we may not be Apostle material, we can all be disciples.
Covid19's continuing financial impact.
Like other charities, St. Patrick's was badly affected by lockdown, plus the subsequent closure for major repairs. We are now even more reliant upon the income from the events we hold, and donations from church members, the local community and any more distant supporters. We lost around 70% of our usual income in 2020 and this did not recover significantly in 2021, and although things are looking better this year, we are very conscious of current economic circumstances, with increased costs impacting on church finances and upon the personal finances of our contributors. Much of our reserves were expended financing our share of the major repair project costs, which could not have proceeded without the grant aid we received. Even then, we still have repair, refurbishment and enhancement costs exceeding £1m to meet over the next few years. We will of course keep applying for grants, but the day to day running costs of St. Patrick's are up to us and our community to find. St. Patrick's cannot survive without people and money; and both are in increasingly short supply.
May I ask all our congregation and supporters to consider if you can increase your support, in kind as much as in cash, but ONLY if this can be done without adverse impact on yourself and your family. If you wish to help in the running of the church, please contact the PCC Secretary. If you wish to donate money, you can do so direct to the church's Barclays Bank account, the sort code is 20-43-47, account name is PCC of Patrington, and account number 30707988. Please, though, provide a transaction description so I know who is making the donation.
Michael Price, PCC Treasurer.
Safeguarding vulnerable people.
St. Patrick's Church takes very seriously our duty to safeguard vulnerable people. More information is available from the PCC's Safeguarding Officer (see the "Contact us" page) or from the Diocese of York at https://dioceseofyork.org.uk/safeguarding.
Facebook.
We now have a Facebook page -St Patricks Church Patrington - authentic page- to keep everyone in touch. The title is a bit longwinded as there were already other pages about the church which aren't ours. If you like what you see, whether on Facebook or on this website, please tell your friends. Better still, come and visit our lovely church - visitors always welcome, but if you want to see it all, it will take a couple of hours.