Trinity Sunday.
This Sunday we have another principal feast of the church, in which we celebrate the Holy Trinity - one God in three persons, Father, Son and Holy Spirit.
All Christians believe the doctrine of the Trinity. If you don't believe this—that is, if you have come to a firm conclusion that the doctrine of the Trinity is not true—you are not a Christian at all. That sounds harsh, but belief in Father, Son and Holy Spirit is a given for Christians down the centuries. Christians in every land unite in proclaiming that our God eternally exists as Father, Son, and Holy Spirit.
No-one in this world fully understands this doctrine, which is both a mystery and a paradox - but that is true of much of our Christian faith Reasons for believing in the Trinity are that the Bible teaches us to, Christians everwhere have always believed it, no other explanation makes sense and Jesus Himself commanded us to make disciples of all nations, baptising them in the name of the Father, the Son and the Holy Spirit.
It has been said that if you try to explain the Trinity, you may lose your mind, but if you deny it, you may lose your soul. Perhaps the following model gives us a clue to both.....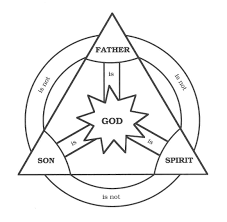 Welcome to St. Patrick's.
The church is open daily from around 9am to 5pm, or until dusk if earlier.
Access for ambulatory visitors from the car park on High Street is up the steps between the handrails and direct to the north porch. Wheelchair users' access is through the gap in the east wall of the car park, through the lychgate and again to the north porch. There is a ramp for wheelchairs just inside the porch to help negotiate the entry step.
Entry to the church from Church Lane, to the south of the church, is via the kissing gates and the paths leading to the north of the church. These routes are not accessible to wheelchair users. There are some areas of the churchyard cordoned off for safety reasons pending attention from the Patrington Parish Council, who are responsible for churchyard maintenance.
If you are interested in exploring our beautiful church but do not wish to participate in a church service, we respectfully suggest you avoid service times (shown in the calendar).
If you would like to organise a group visit, please contact the PCC Secretary in advance, so that clashes with other visits or activities are avoided. We advise that a group visit covering the whole of the church will take a minimum of two hours, three hours if a tower tour is included.
We do have a toilet, but unfortunately space and access constraints mean it is not suitable for people with disabilities. It is available for church services, all church events, organised parties and whenever the church is stewarded. It is NOT available for use by casual visitors other than by prior arrangement with one of the Church officers.
Safeguarding vulnerable people.
St. Patrick's Church takes very seriously our duty to safeguard vulnerable people. More information is available from the PCC's Safeguarding Officer (see the "Contact us" page) or from the Diocese of York at https://dioceseofyork.org.uk/safeguarding.
Plans...
We began preparing our Conservation Management Plan (essential for all Major Parish Churches) in March and began community consultations at the Annual Parochial Church Meeting on 30 April. The questionnaire intended for worshippers, local residents and supporters is now closed and we will be analysing the response over the next week or two. We'll be spreading consultation further in due course. More about the CMP later...
Facebook.
We now have a Facebook page - St Patricks Church Patrington - authentic page - to keep everyone in touch. The title is a bit longwinded as there were already other pages about the church which aren't ours. If you like what you see, whether on Facebook or on this website, please tell your friends. Better still, come and visit our lovely church - visitors always welcome, but if you want to see it all, it will take a couple of hours.